Are 'Iran, China and Russia, OH MY' All Part of the Sony Hack Job?
It looks like George W Bush's "Axis of Evil" is winning after all. With Sony, sticking its head in the sand and caving to the hackers' demands, thus strengthening the hacking department of all terrorist regimes, empowering them to believe they can take us down byte-by-byte instead of human-by-human. America's most famous and highest-paid entertainer of the 1930s, Al Jolson, said it best with the popularization of the phrase: "You Ain't seen nothing yet"; And Baby, Hold Onto Your Hat (or Gigabyte), because we (the technological world) are in for the hacking ride of our life.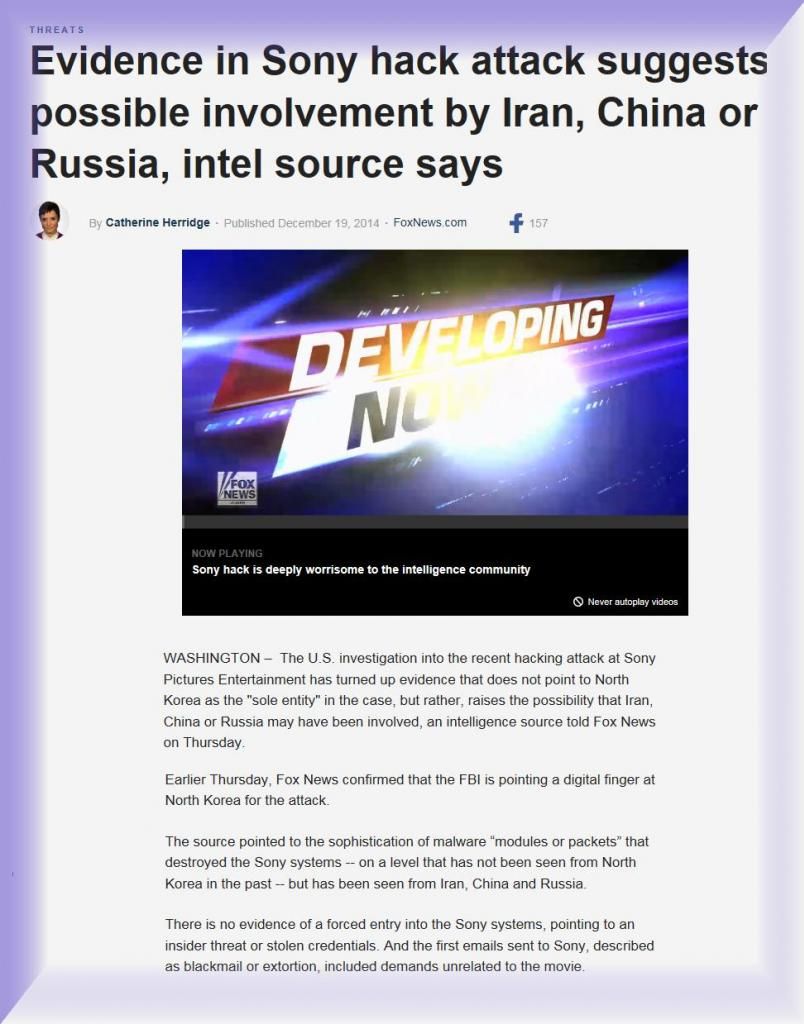 PS: I couldn't agree more.

OPINION: When lack of principle meets personal cowardice.
EXCERPT: Iran, Russia or China could have worked with North Korea -
Sony's surrender will strengthen hackers, experts say
Could hack attack and fallout sink Sony Pictures?
----
Sony's 'The Interview' Will Eventually Hit Screens: Experts

BY BILL BRIGGS
The Hollywood maxim that even bad publicity is good news will hold true for Sony's hack-a-licious picture "The Interview," say film industry experts who foresee merely a delayed debut and a modest box-office boon.

"A movie with this much press behind it, honestly, you know it has people kind of in a fervor to see this, and it is going to find a home in theaters," said Jeff Bock, senior box office analyst for Exhibitor Relations Co., Inc. in Los Angeles.

Sony Pictures Entertainment, which reportedly invested $42 million to make the film, decided Wednesday not the release "The Interview" as planned on Christmas Day, due to security concerns.

Sony did not return an email or a voice mail from NBC News, seeking comment on the predictions of an early 2015 release. A Sony spokesperson confirmed to NBC News on Wednesday the studio "has no further release plans for the film." That includes no video-on-demand release, the spokesperson said.

The movie — a James Franco/Seth Rogen comedic romp about a CIA plot to kill North Korea's dictator — is a casualty of an unprecedented hack attack against Sony that revealed reams of sensitive internal emails, many embarrassing.

The hackers vowed violence at theaters if the film opened as scheduled.

U.S. government officials suggested Wednesday that the regime of Kim Jong Un appears to be behind the Sony breach and the threat, though some cyber-sleuths still harbor doubts that North Korean leaders masterminded the online assault.

"The movie would have recouped anyway, would have been very successful without all of this happening," said David Poland, a film industry analyst, movie critic, and founder of the website Movie City News.

"We're at the beginning of the story. Once you go down that road to who did this, it may become a much bigger story, a political story, not a Hollywood story. I personally think once they get some stability in terms of knowing who's responsible, and it's not just all this swiping at ghosts, I think the movie will come out in January or February," Poland said.